Performer, Comedian, TV-Radio Presenter and Producer with over 20 years of experience in the entertainment business working constantly in all facets of the industry.

James Liotta was born in Melbourne Australia and is an Australian-Italian award winning Actor as well as: Performer, Comedian, TV-Radio Presenter and Producer with over 20 years of experience in the entertainment business working constantly in all facets of the industry.
James began entertaining audiences at the age of 8 years old securing the lead roles in school theatrical productions and quickly moving into semi-professional shows outside of school. (One of his earliest roles had him playing 'Prince Charming' in a version of Cinderella in Primary School.)
This also led him to gaining his first TV agent at the age of 8 and thus allowing him to participate sporadically in various TV series and Commercials. It was common for James to take time off school to work professionally in the TV business.
His passion for performance was evident through his teenage hood as he continued to study Drama and Theatre through High School at Northcote High School (Melbourne Australia) as well as taking weekend courses in 'acting' and 'Film-Making'.
This enthusiasm for acting was instilled by his Father 'Sebastiano' who himself worked within the Italian Community as an Actor/Playwright having produced a multitude of fluent Italian speaking stage shows in Melbourne. James took part in every single one as an actor (in fluent Italian) and later went on to direct a number of his Fathers stage shows.
(James' Father has also appeared in roles on TV and had much exposure playing 'Eric Bana's' Father in THE CASTLE.)
The entertainment business became James' lifestyle very fast straight out of Secondary School with it (entertainment) being the only major job James has undertaken and made a solid (and thankful) living out of.
In 2004 James graduated with a Diploma in Drama and Theatre from NMIT which also gave James' stage comedy script "Wog FM" the chance to be produced by the class as their end of year graduating showcase. A huge achievement to have been selected and an asset to his C.V.
Over the years James has appeared on various TV shows such as: Underbelly Squizzy, Thank God You're Here, Neighbors, Utopia, Prank Patrol, Upper Middle Bogan, Planet Unearth, Paper Giants, Gruen Planet, Quizmania, Hey Hey It's Saturday, Satisfaction, Ground Zero, Video Hitz, The Project, Today Tonight, My Community and Under The Hammer just to name a few.
James has also performed roles on a number of independent feature films including the award winning MONSTER PIES and highly acclaimed TAJ.
Short film work has also accumulated fast for James as he now holds a vast number of roles under his belt. Many films have gone on to do well in the festival circuits gaining recognition and awards including: Tiramisu', A Fairy Tale and the 2010 Tropfest finalist Falling Backwards.
WEDDING RECEPTION M.C
James Liotta is fast becoming one of the most sought out wedding reception MC's around Australia.
He is described as: engaging, entertaining, interactive, hilarious and professional. Providing a genuine interest in making sure everyone has a great time on the night! James also assists with the scheduling of your memorable evening with care and patience.
Available right around Australia to M.C your wedding.
Drop us a line now to have a chat about your big day and be sent some private video links to James performing as a wedding reception master of ceremony!
Wedding Review
James, thank you so much for an amazing night. You were fantastic up there and had everyone laughing which is exactly what we wanted. You really made our night, thanks again. Rhiana and Marco
City of Whittlesea – Carols by Candlelight
Dear James,

Thank you so much for another awesome MC job! As always you were spontaneous, engaging and entertaining

and I personally loved all your 'Noel' gags!

Julie, Sunshine and Sarah xx (Whittlesea Council)
Wedding Review 8
Dear James,

Thank you very for being our M.C at out wedding.

So glad we picked you!! Thank you for your patience with us, especially in the beginning when we were just getting everything together.

Hope you have had fun partying with us.

Thank you again for everything.

Pete and Jess Koukos
Wedding Review 7
Bride (Kylie): James, you are the best!

Angie (Brides sister): James Liotta you did an amazing job! Never have I enjoyed a wedding as much as this. You made it that
Extra bit special…. Thank you very much xx

Jan (Best man) Amazing Job James, You kept us all entertained All Night Long with your great sense of humour.

Kylie and Shaun Federickson
Wedding MC Review 6 – Booked via JOE AVATI PRODUCTIONS
Not only was my wife and I completely blown away, but our guests, to this day, have not stopped complementing the exceptional job James did. His friendliness, enthusiasm and warming nature were clearly apparent. He took a genuine interest in learning about my wife and I, and we spent countless hours having a laugh. My wedding reception exceeded all expectation. James' ability to engage the audience at the start of the night, maintain the crowds interest and ensure everyone had a laugh was truly commendable. My Nonni were in stitches, my parents were crying of laughter and our entire family were blown away. James was not only hilarious in his jokes, but ensured he involved all of our guests in the wedding.

Melissa and Adrian Zuccarelli
Wedding MC Review 5
Cannot thank you enough for the wonderful job that you did at our wedding on 7 March 2015. A perfect combination of Italian and English and seriousness and comedy. All of our guests have complimented your work at the wedding and we were so pleased. Andrew and I spent our night with huge grins on our faces – not because we were married but because you had us in fits of laughter. Thank you so much once again!
CFA EASTER DAY M.C
Hi all, I was at the CFA event in Mernda on Easter Saturday, James was MC for the day. He was extremely entertaining and funny. I attended last year also, but my family and I stayed an hour only as it was quite boring. This year, we hung around till it finished based on James' work. Thank you, James. Your work as MC made the day really fun!!
Wedding MC Review 3
Hi James,

I wanted to thankyou for everything on Saturday, we all really enjoyed your humour & commentary. Everyone was absolutely raving about you. You really helped make the night!
Wedding MC Review 4
Highly recommend our MC from our Wedding James Liotta! He made the night what it was. Everyone had a great laugh, got involved and partied hard and I have to say majority of the credit if\s due to this guy! James was well organised and checked every minor details with myself leading up to the day and even on the day. He was fun, entertaining and his humour was appropriate to who we are as a family. Most important he was engaging! So many guests have commented on how great he was and how he made the life of the party! Again I highly recommend James if a fun wedding is what you're planning!
Green Button Foundation M.C
James on behalf of The Green Button Foundation we would like to thank you for making our first Annual Gala Event a one to remember. The audience loved you, we have had so much great feedback. Professional yet so funny, you are a fantastic M.C in which we highly recommend to others. You were also a great auctioneer selling items up to $6000!! Amazing!!! If anyone is looking for an M.C contact James to make sure he's free for your event, you don't want to miss out! Liza Tarascio – Green Button Foundation
M.C - MASTER OF CEREMONIES
James is one of the busiest MC's with weekly shows, festivals and corporate events. He is one of the most popular MC's for ITALIAN/AUSTRALIAN festivals and events right across Australia as well as major community festivals for various municipalities.
Some of the festivals James is booked to M.C include: Australia Day-Whittlesea | Darebin Community Festival | Darebin Beer and Wine Festivak | Whittlesea Festival | Lalor Multicultural Day |Craigieburn Festival | Glenroy Festival | Fawkner Festival | Broadmeadows Festival | La Dolce Italia Festival | Lygon Street Festival | Carlton Italian Festa | Adelaide Carnevale Festival | Melbourne National Italian Day | Sydney National Italian Day | Sydney Primo Festival | Hobart Italian Festa | Well Bread Festival | Carols By Candlelight-Whitlsea | Carols in Piazza Carlton | St Paul's Festival | Comfy Shorts Film Screenings | Angry Film Festival | Made In Melbourne Film Festival |Viva Victoria Multicultural Festival | Amazing Race Thomastown Family Day | Winter Wonderland Family Day | North Balwyn Multicultural Festival | Whittlesea Show | Lalor Multicultural Festival | Sydney Ferragosto Festival. Plus a long list of charity and dinner dances!
James is also available to M.C corporate launches and parties.
THE BASH RADIO SHOW
James has always been active within Melbourne radio on air or behind the scenes.
James began broadcasting on community radio at the age of 14 on 89.9 Hitz FM where he went on to host and produce numerous shows and outside broadcasts. This invaluable training led him to a number of jobs in radio and over the years James has held positions at: FOX FM, MIX FM, GOLD FM, SEN, 3AK, 3MP, MTR, SBS, SYN FM, PULSE FM and HITZ FM.
James was a regular M.C for activation days/events for MIX 101.1 FM and Gold 104.3 FM – many times working alongside Melbourne radio icon STICK MAREEBO.
James has recorded commercials which have aired on: 3AW, Gold FM, Smooth FM and ReteItalia.
Over the years in radio James has the privilege to interview an immeasurable amount of celebrities on his radio shows and work with major personalities within the Radio and TV business.
LISTEN to James' VOICE OVER reel right here!
https://soundcloud.com/james-liotta/full-james-liotta-voice-reel
THURSDAY NIGHTS - 98.9 NORTH WEST FM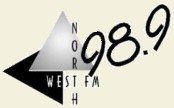 Every Thursday night you can tune into THE BASH RADIO SHOW hosted by James Liotta from 9PM in Melbourne.
James broadcasts a weekly fun show with current chart music, talk-back, celebrity interviews, prizes and much more!
You can listen online by clicking:
"LISTEN TO THE BASH at the top of this page."
USING A SMART PHONE? SIMPLE!
Select the 'FLASH ICON' after clicking 'Listen to the Bash' at the top of this page.
LA COMICA VARIETY PRODUCTIONS - ITALIAN COMEDY SHOWS FOR SCHOOLS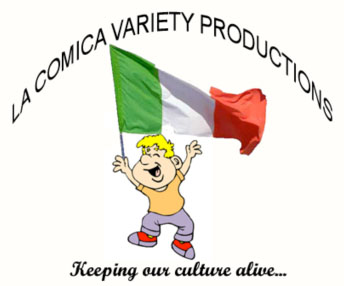 For the past ten years James has co-run a travelling theatre company under LA COMICA VARIETY with co-partner Mario Cicitta.
The company performs ITALIAN flavoured original comedy shows for students in Primary and Secondary level who are learning Italian language as their LOTE.

If you are an Italian Teacher looking for a show packed with hilarity and education for your Italian students, look no further and drop us a line today to gain more information and a list of our current shows on offer!
PLANET UNEARTH ON CHANNEL 9 GO! & FOXTEL (AURORA)
James Liotta (With Sean Pary) co-hosted a late night TV talk show PLANET UNEARTH which was broadcast on Channel 9 GO! over December/January 2014/2015. The show had previously aired 3 seasons on Foxtel-Aurora before finding its new home on GO!
Planet Unearth consisted of celebrity interviews that took place in an in-studio bed. The show also 'unearthed' new and upcoming talent in the areas of music, magic, modelling, and comedy, along with a showcase of independent music video clips.

A number of major celebrities were interviewed during the shows 4 season run on TV, however throughout its Channel 9 stint celebrities included: George Kapiniaris, Tottie Goldsmith, Nikki Osborne and Ben Price.

MERCHANDISE & SHOWS
OFFICIAL "JAMES LIOTTA" MERCHANDISE
BRAND NEW CD!
"JAMES LIOTTA LIVE"
GET YOUR COPY AT THE NEXT PUBLIC LIVE SHOW/APPEARANCE!
MAIL ORDERS AVAILABLE TOO! CONTACT US!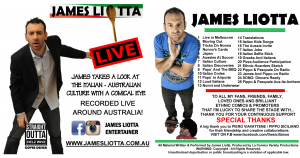 CD ALSO AVAILABLE AT: WWW.THEEUROSHOP.COM.AU
The "T'AMMAZZO" & "WOG-MAN" design is available across all these products.
Shop IN STORE at FORZA ITALIA
204 Lygon Street – Carlton – Melbourne – Australia – Ph. 03 9654 6660
or shop ONLINE at
http://www.jamesliotta.deco-apparel.com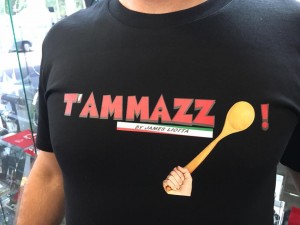 2018 GIG GUIDE COMING SOON! FOR PIPPO & PASQUALE AUS TOUR TICKETS GO TO:
https://jliotta0.wixsite.com/pippoandpasquale
FEBRUARY 2018
MARCH 2018
APRIL 2018
MAY 2018
JUNE 2018
JULY 2018
AUGUST 2018
SEPTEMBER 2018
OCTOBER 2018
NOVEMBER 2018
DECEMBER 2018
CONTACT
Contact James here for all your enquiries relating to M.C and comedy appearances.
Phone James Directly
TO BOOK JAMES DIRECT 0409 932 014
Phone James' TV/Film Agent
+61 3 9645 4475
JAMES LIOTTA CAN ALSO BE FOUND ON
Showcast, AT2, Casting Networks, Starnow and IMDB

All the fields are required